For optimal reading, please switch to desktop mode.
The latest instalment of the KCDUK events was recently held in London, bringing together the cloud native community from across the UK to learn, network and collaborate.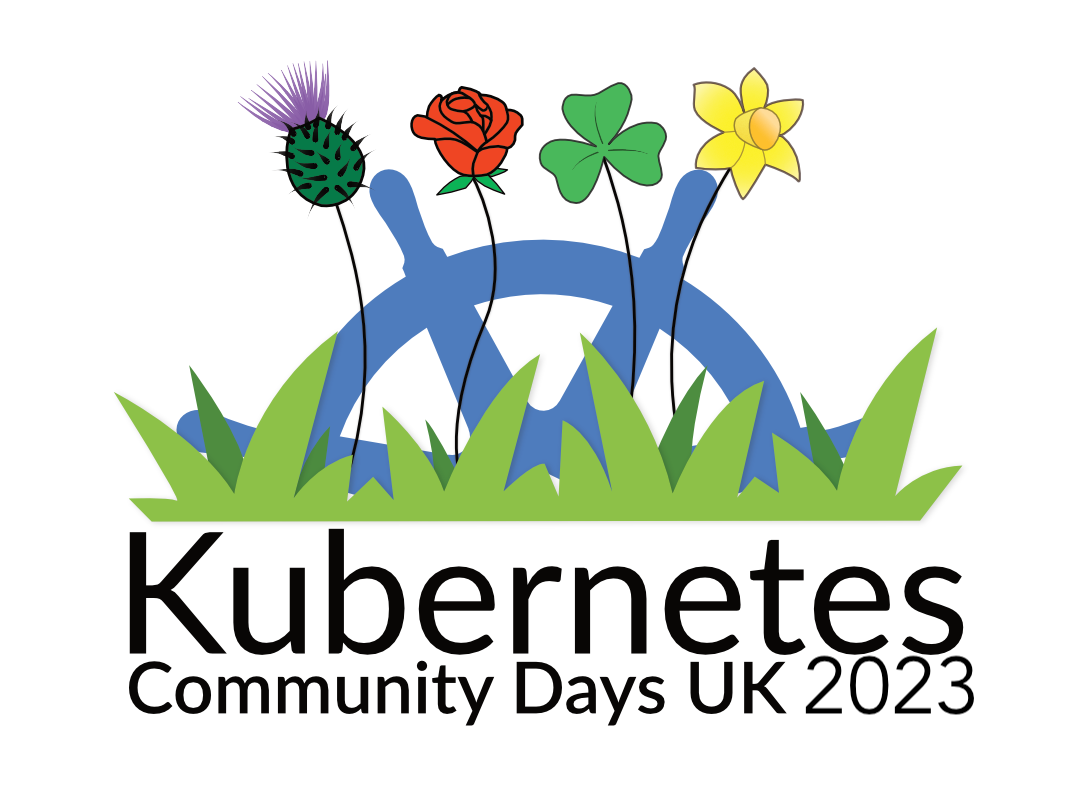 StackHPC contribution
StackHPC were privileged to contribute to KCDUK 2023 in the form of two talks.
Powering SKA science with LOKI

John Garbutt delivered a keynote presentation describing StackHPC's long collaboration with the Square-Kilometre Array (SKA) telescope project – illustrating the effectiveness of the Linux, OpenStack, Kubernetes Infrastructure (LOKI) in enabling scientific discoveries in a global, distributed and huge-data endeavour.
The Need for Speed - performance benchmarks for HPC and AI workloads in Kubernetes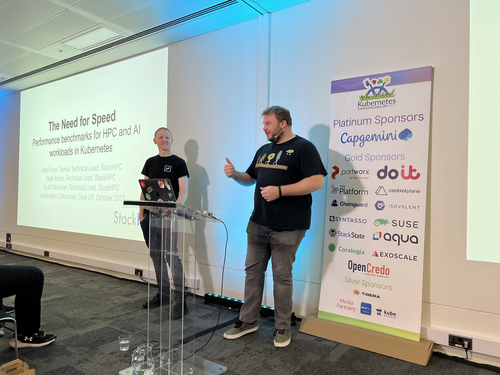 Matt Pryor and Matt Anson talked about kube-perftest - tooling that StackHPC has developed to investigate and benchmark the physical networking, storage and accelerator infrastructure underneath Kubernetes clusters to ensure that the performance of several synthetic and real-world benchmarking toolsets are in-line with expectations.
Conference trends and highlights
Conference talks and workshops were an exciting mix of community-focussed and technical content. These were presented alongside "lightning talks", where speakers were asked to propose their talk just a couple of hours before delivering it. Given the short preparation time, the quality of the lightning talks was very impressive, with standout contributions from organiser Lewis Denham-Parry on being a good citizen in an open-source community, and the team from Coralogix made log aggregation, deduplication and searching interesting!
Outside of the lightning talks, several topic areas were well represented:
Open-source software and community – there were engaging talks from Kunal Kushwaha, focussed on the real value of empathy in tech, and Jennifer Riggins on sustainable and inclusive ways to build diversity and belonging and in open-source communities. Francesca Carta and Nicolò Cambiaso Erizzo reminded us that technology is a small part of the battle when it comes to driving adoption of the platforms that we are building, and that cultural change, collaboration and shared vision and roadmap are equally, if not more, important.
Cilium – There were number of talks from Isovalent on the Cilium family of technologies, and Cilium itself has recently moved to the CNCF "graduated" maturity level. Cilium is a "batteries-included" eBPF (or extended Berkely Packet Filter) toolbox, promising high-performance networking, alongside a full-suite of observability and security tools. We're looking forward to deploying Kubernetes clusters running the newest release with Azimuth, and performance-testing them with kube-perftest!
Service mesh – There were a number of talks on service mesh in Kubernetes, but a particular favourite was a talk from Miles Bryant on how Monzo built their own service mesh using our old friend RabbitMQ as a major component – not for the faint of heart!
Software supply-chain security - Matt Jarvis and Andrew Martin's talk on Software Bill Of Materials (SBOMs) explored where in the container build-and-run lifecycle they should be generated and verified, alongside deep-diving into the information that they should contain to be most useful. Dan Lorenc discussed how trust can be scaled in open-source software development.
The full programme can be found here, with recordings available on YouTube.
Get in touch
If you would like to get in touch we would love to hear from you. Reach out to us via Twitter or directly via our contact page.